NEW!
All skin types: dry, combination, oily or sensitive
SUNSCREEN + ANTI-SPOT TREATMENT + MOISTURISING CERAMIDES
A broad-spectrum mineral sunscreen that not only protects from the sun, but also provides additional skincare benefits: it reduces spots, brightens, fills, hydrates and improves skin texture while combating photoageing and environmental pollution.

A new generation formula, with

SPF 50

and

mineral filters

of natural origin

(Titanium Dioxide and Zinc Oxide)

which protects the skin from

UVA

,

UVB, Infrared

and

Blue Light (HEVis).

It is

enriched with a unique combination of 4 natural technologies:
o CERAMIDES complex restores the skin barrier while reinforcing, softening and retexturising for a smoother and softer appearance.
o HYALURONIC ACID helps replenish skin by improving hydration and elasticity.
o ARABIAN COTTON, an active ingredient extracted from Arabian Cotton stem cells that live in extreme sun conditions, reduces sunburn and photo-ageing.
o DARK SPOT DEFENSE complex (Boerhavia + Ferulic Acid + Vitamins C and E), infallible in fighting spots, illuminating the skin and acting on the initial mechanisms of pigmentation to reduce pigmentation activity.
o
The formula is completed with a synergy of 7 powerful extracts: White and Green Tea, Liquorice, Edelweiss, Calendula, Centella Asiatica and Pomegranate, with soothing, antioxidant, anti-inflammatory and regenerating benefits.

OIL FREE

Formula

Its light, silky, non-greasy texture is ideal for all skin types, including sensitive, light-coloured, blemished or with scars.
.
50 ml | All skin types | Oil free | Suitable for pregnant women | SPF 50 | Mineral Filters | No nanoparticles | Biodegradable | Reef safe | Vegan | Cruelty free | Dermatologically tested
Suitable for kids from 3 years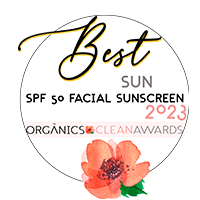 BEST FACIAL SUN CREAM AWARD SPF 50
.
.
.
Natural ingredients and actives
CERAMIDES
As we age, ceramide levels decline, so it is important to replenish them with a good cosmetic that can create a healthy barrier for the skin that protects it from environmental damage. Benefits of ceramides:
- Strengthen and repair the skin barrier.
- Absorb and retain moisture.
- Protect against environmental damage..
- Improve sensitive, irritated or acne-prone skin.
- Soften and smooth the skin.
- Delay skin ageing.
DARK SPOT COMPLEX (FERULIC ACID + VITAMINS C, E + BOERHAVIA)
Natural Ferulic Acid combines with Boherhavia and vitamins C and E to create a powerful antioxidant and anti-spot synergy. Benefits of the anti-spot complex:
- Great antioxidant.
- Promotes collagen production.
- Helps to protect the skin during solar radiation.
- Great depigmenting agent, it reduces tyrosinase activity by 55% and the amount of melanin by 34%, acting on 2 levels: reducing visible superficial spots and other more internal ones..
- Improves any blemish, regardless of its origin (sun damage, ageing, etc).
- Skin brightening action.
An innovative active ingredient that will combat photoaging, sunburn and pigmentation spots. It will protect the skin from UV, HEVis (Blue Light) and IR (Infrared) radiation.
It is the great ally against ageing due to its great capacity to retain water, improving hydration and firmness for a fresher and more elastic skin.
WHITE AND GREEN TEA EXTRACT
Two great anti-inflammatory and antioxidant that will rejuvenate skin cells and protect the skin from free radicals, thus delaying ageing. They will also help to tighten skin pores and eliminate imperfections.
A flower with anti-inflammatory, healing, antiseptic and soothing properties. It repairs damaged skin and treats scars, burns and chapping. Combats eye fatigue and helps prevent bloodshot eyes. Ideal for sensitive skin.
Rich in antioxidants, vitamins and minerals with great capacity to regenerate and firm tissues. It is a great ally to keep the skin younger, hydrated and repaired. Its anti-inflammatory properties make it very effective for skin conditions.
A restorative, antibacterial and healing medicinal plant. It has a rejuvenating, firming and stimulating effect on collagen biosynthesis. Its high antioxidant content protects against ageing and improves the appearance of the skin.
It is a powerful antioxidant that helps to reduce skin ageing and fade hyperpigmentation.
Essential skin antioxidant that will help reduce scarring and keep skin looking young and radiant.
Healing, antioxidant, antibacterial. Moisturises, soothes and regenerates the skin.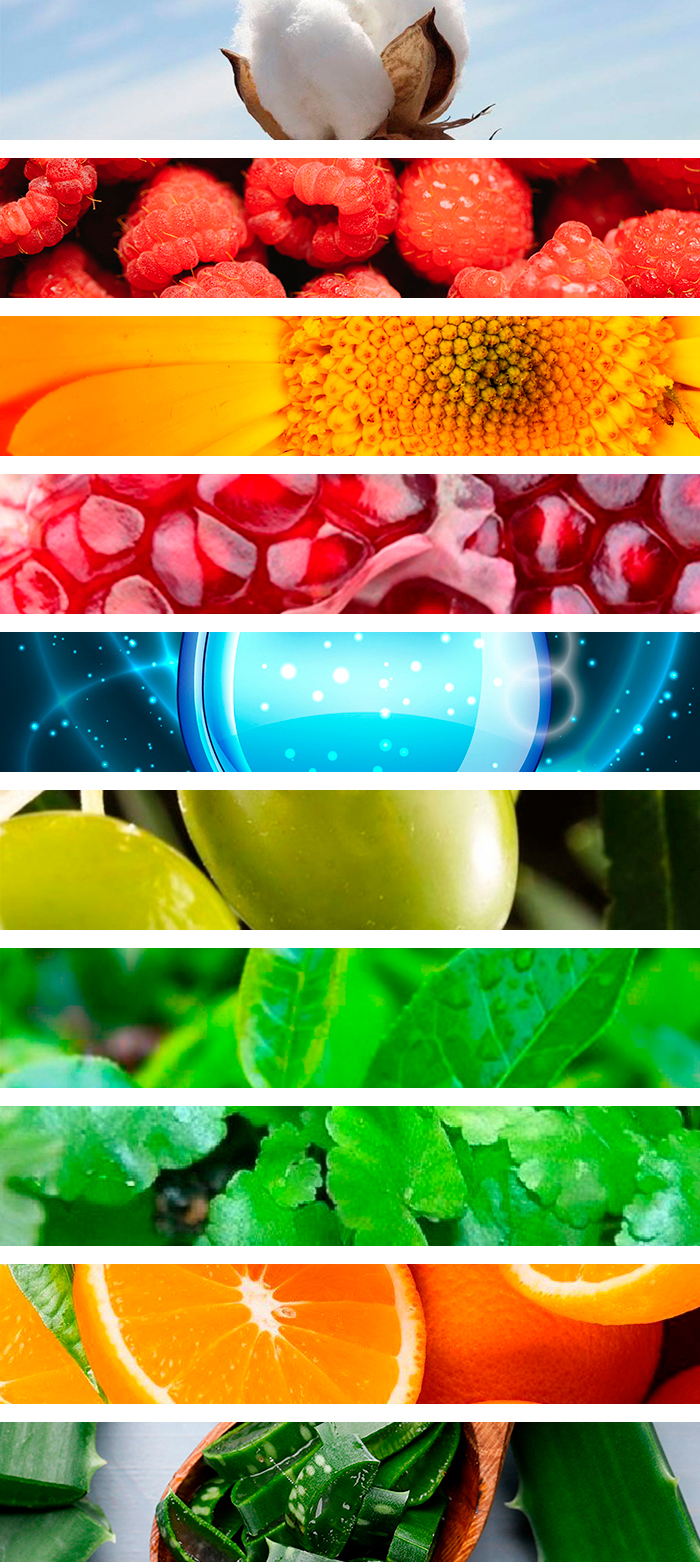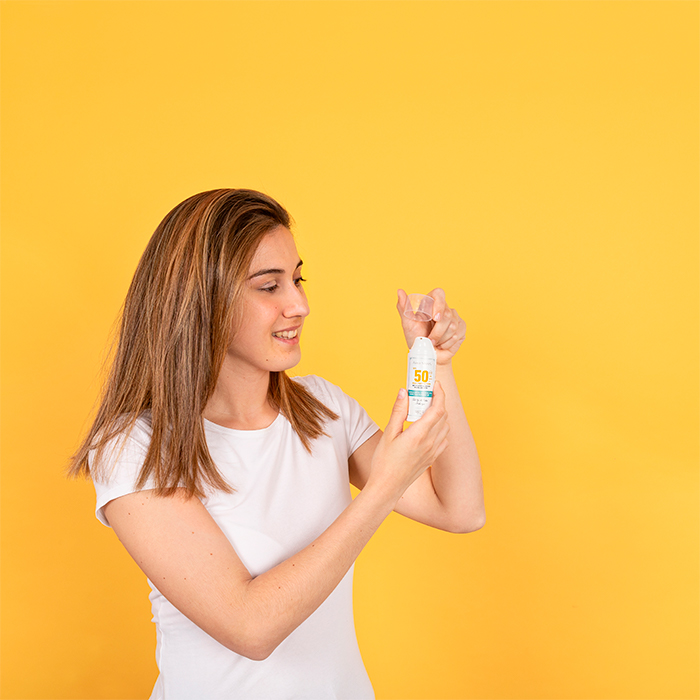 Shake well before use for a more uniform distribution of the ingredients.
Remember the 2 finger rule!, on clean skin, as the last step of your facial routine.
Reapply every 2 hours or after excessive sweating, bathing or towel drying. And avoid intense sun in the middle of the day.
Use it every day, even if it's cloudy and... Don't forget your neck and chest!
Ingredients: Glycerin, Zinc Oxide, Caprylic/capric Triglyceride, Isoamyl Cocoate, Titanium Dioxide, Cetearyl Alcohol, Aloe Barbadensis Leaf Juice*, Ceramide NP, Gossypium Herbaceum (Cotton) Callus Culture, Sodium Hyaluronate, Ferulic Acid, Boerhavia Diusa Root Extract, Camellia Sinensis Leaf Extract (Green & White Tea), Glycyrrhiza Glabra Root Extract*, Leontopodium Alpinum Flower/Leaf Extract*, Calendula Ocinalis Flower Extract, Centella Asiatica Extract, Punica Granatum Fruit Extract, Glyceryl Stearate, Jojoba Esters, Helianthus Annuus Seed Wax, Tocopherol (Vitamin E), Ascorbyl Palmitate, Sodium Stearoyl Glutamate, Polyglycerin-3, Xanthan Gum, Citric Acid, Dehydroacetic Acid, Benzyl Alcohol, Potassium Sorbate, Sodium Benzoate, Silica, CI77492, CI77491, CI77499, Parfum.
*Ingredients from organic farming | 99% Natural origin of total.
COSMOS NATURAL certified by Ecocert Greenlife according to COSMOS Standard
50 ml / 1.69 fl.oz.
A UNISEX and perfect product for dry, normal, combination, oily, mature, with blemishes or any condition (acné, sensitivity...). Thanks to its non-comedogenic ingredients and dermatologically tested formula, it is suitable for all skin types, including the most sensitive and delicate.
It is the best option for ACNE-PRONE SKINS
As it is formulated without oils that can be comedogenic. That's why it will be an incredible ally for young skins or skins with problems of comedones, acne, etc.
It is the best option for SENSITIVE SKIN
All its ingredients are natural and gentle on sensitive skins. In addition, its perfume is natural and does not contain allergens.
It is the best choice for MATURE SKIN
As we age, the skin becomes thinner, which makes it easier for UV rays to enter and penetrate deeper, causing burns or blemishes. Skin lipids on the surface are reduced and this also causes dehydration and makes the skin more vulnerable to inflammation. In addition, the repair of sun-damaged DNA is slowed and this increases the probability of abnormal cell growth which can lead to skin cancer.
Best option for PREGNANT women
Sun protection is very important during pregnancy and breastfeeding because it will not only protect you from sun spots but also fight other types of spots. Avoid chemical sunscreens containing oxybenzones, octinoxates, octisalates, avovenzones or parebenes and choose a natural, broad-spectrum SPF 50 mineral sunscreen.