Rooibos, Licorice, Yarrow, Valerian, Nettle, Cardamom, Rose and Marigold Tea
Wake up every morning thinking about making the most of the day and forget about your menopausal symptoms!
This natural blend is always a winner!
A unique recipe that combines natural ingredients to help balance and fight the unpleasant moments of menopause: hot flushes, hormonal imbalance, palpitations, tiredness, anxiety, irritability, low mood or the lack of energy and vitality.
Combined with the antioxidant properties of red berries, it is a powerful defence against ageing and stress.
Ideal to drink hot or cold at any time of the day.
Not suitable for pregnant women. It contains liquorice, people with hypertension should avoid excessive consumption. If you have a medical condition, please consult your doctor.
90 g | Vegan | Caffeine/Theine free | Take with water | Great to take anytime
.
CEDERBERG ROOIBOS TEA NORTHERN CAPE TOWN (SOUTH AFRICA)
Rooibos tea is extracted from the leaves of the Aspalathus Linearis plant. This tea is made by cutting the leaves and stems of the plant, fermenting them and leaving them to dry in the sun. The production of our tea is concentrated in this specific region of South Africa. It has a delicious, mild and slightly sweet taste.
Drinking Rooibos tea is becoming increasingly popular due to its many antioxidant benefits as it contains no caffeine or theine and no tannins. It is rich in quercetin, polyphenols and flavonoids, some of which are unique to the plant such as aspalathin. It can help to strengthen the immune system and is protective against free radicals.
Antioxidants help protect the body from oxidative damage and studies have linked tea consumption to a significant reduction in the risk of developing diseases such as neurodegenerative diseases, diabetes and cancer.
It is diuretic, anti-inflammatory and antimicrobial. It helps to eliminate toxins and burn fat. It also promotes healthy digestion. Its caloric intake is practically nil.
It has extraordinary benefits for the skin as it helps to protect it from allergic conditions or skin problems. Its high alpha hydroxy content can help reverse cell damage and rejuvenate the skin.
It helps to reduce stress and anxiety levels and is the alternative to teas with theine, especially for people who are nervous or suffer from insomnia. It relaxes tired nerves and calms.
Other Ingredients:
Liquorice, Yarrow, Valerian, Nettle, Cardamom, Rose and Calendula.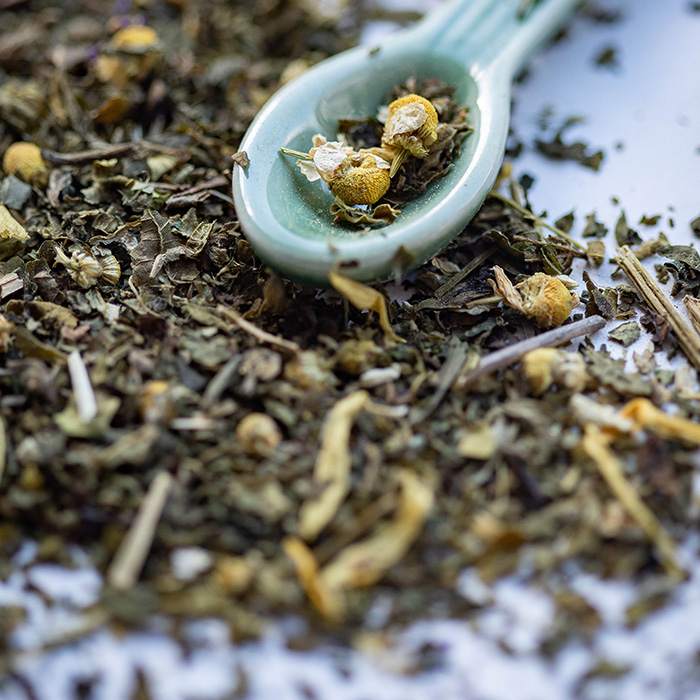 Dose: 2-4 grams. One teaspoon per 200 ml of liquid. If you want it more intense or concentrated, add an 'extra' teaspoon.
1. Heat water, milk or vegetable drink. Temperature approx. 95-100ºC
2. Remove the liquid just before it starts to boil and add the tea or infusion.
3. Leave to stand for 5-6 minutes. If possible, leave it covered.
Any variety of tea or infusion you can drink at home or take with you, it adapts to the rhythm of your life!
It's perfect to put in your reusable bottle and enjoy it wherever you are.
It will help you stay hydrated all day long!
Es perfecta para ponerla en tu botella reutilizable y disfrutarla allí donde estés.
¡te ayudará a mantenerte hidratada/o todo el día!
Rooibos (65%), liquorice, yarrow, valerian, nettle, green cardamom, cardamom seeds, rose petals, marigold, flavouring.
Caffeine free.
______
It is recommended to reduce caffeine and caffeine consumption during pregnancy. Rooibos tea is therefore a good alternative option.
If you have any kind of health condition or problem, or if you take medication, consult your doctor before consuming tea or infusion in case there are any contraindications with the plants or ingredients it contains.