Hair loss, dandruff and oil control for normal to oily hair
A natural shampoo for normal or oily hair formulated with a powerful base of plant extracts and active ingredients selected for their ability to cleanse, soothe, detoxify, balance, revitalise and regenerate your hair.
It strengthens hair roots and acts against hair loss, balances oil and treats scalp conditions such as dandruff, flaking or seborrhoeic dermatitis.
Shikakai is enriched with botanical extracts of Shikakai, Nettle, Southernwood, Nasturtium, Spirulina and Green Tea infused in Thermal Water. In addition, it also contains essential oils of Peppermint, Rosemary, Cedarwood, Lemon and Lavender, a purifying, regulating, circulation-activating, hair-strengthening and hair-growing combination.
Its formula is completed with Jojoba and Coconut, moisturising, conditioning and restructuring oils for the hair fibre, intensive repairing Panthenol as well as Silk Proteins and Hydrokeratin, which will help to restore the hair fibre and increase its elasticity to reduce breakage.
It does not alter the colour of dyed hair. With regular use, it will bring strength, health and vitality to your hair, eliminating all residues, silicones, parabens or sulphates that can clog pores, irritate or weaken the scalp.
Hypoallergenic, gentle and high tolerance formula.
All hair types, specially for normal or oily hair. Daily use.
Suitable for dyed hair or Keratin, moisturising, taninoplasty, or other treatments.

Shikakai stands out for its purifying, regulating and circulation-activating composition provided by its combination of botanical extracts and essential oils. Its moisturising properties adds softness, shine and strength, regulate pH and control dandruff, all without eliminating the hair's natural oils. If yours look brittle and lifeless, it may be lacking in protein, which is essential for hair health and growth. Shikakai contains Silk Protein and Hydrokeratin, a very effective option for high porous hair that is usually saturated with overly greasy products. It restores your hair, increases its elasticity and reduces breakage.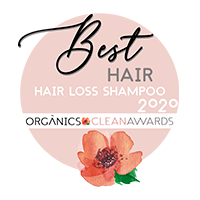 BEST AINTI-HAIR LOSS AWARD 2020
.
500 ml | Sulphate free | Salt free| Cruelty free
________________________

"I bought this shampoo for oily hair with natural ingredients because, in addition to leaving my hair super shiny and strong, it keeps it from turning green"
.
Natural Ingredients and Actives
SHIKAKAI POWDER
Strengthens the hair follicle at the root and promotes hair growth while regulating oil and treating dandruff or seborrhoeic dermatitis. Contains natural saponins that will give your hair strength and natural shine.
NETTLE POWDER (Common Nettle)
Increases blood circulation in the scalp and prevents hair loss and dandruff. Balances oil production. It also soothes irritated scalps.
SPIRULINA POWDER (Spirulina Powder)
Spirulina is revitalising and nourishing. It promotes the production of keratin and also help to treat seborrhoeic dermatitis and combat hair loss.
JOJOBA OIL
Jojoba oil rebalances oily hair and restores vitality to dry and brittle hair, and in both cases adds shine and suppleness. It helps to regenerate the hair's natural keratin, strengthening it and giving hair shine and volume.
COCONUT OIL
A multifunctional ingredient rich in saturated fatty acids and vitamins. It is a great hair conditioner. Cares for and moisturises the ends and helps to keep hair soft, strong and shiny.
HYDROKERATIN (Natural Hydrokeratin)
Its amino acid composition is very similar to that of human hair. It protects the hair fibres from breakage and improves hair hydration, elasticity and softness.
PANTHENOL
It has anti-inflammatory properties and acts against scalp irritation. It nourishes the roots, increases hair shine and volume. It also helps combing and detangling your hair.
GREEN TEA POWDER
Protects the blood capillaries that nourish the skin cells. Stimulates cell regeneration. In addition, it will also regulate oiliness.
MINT, ROSEMARY, CEDAR, LEMON AND LAVENDER ESSENTIAL OILS
A purifying, regulating, circulation-activating, hair-strengthening and hair-growing combination.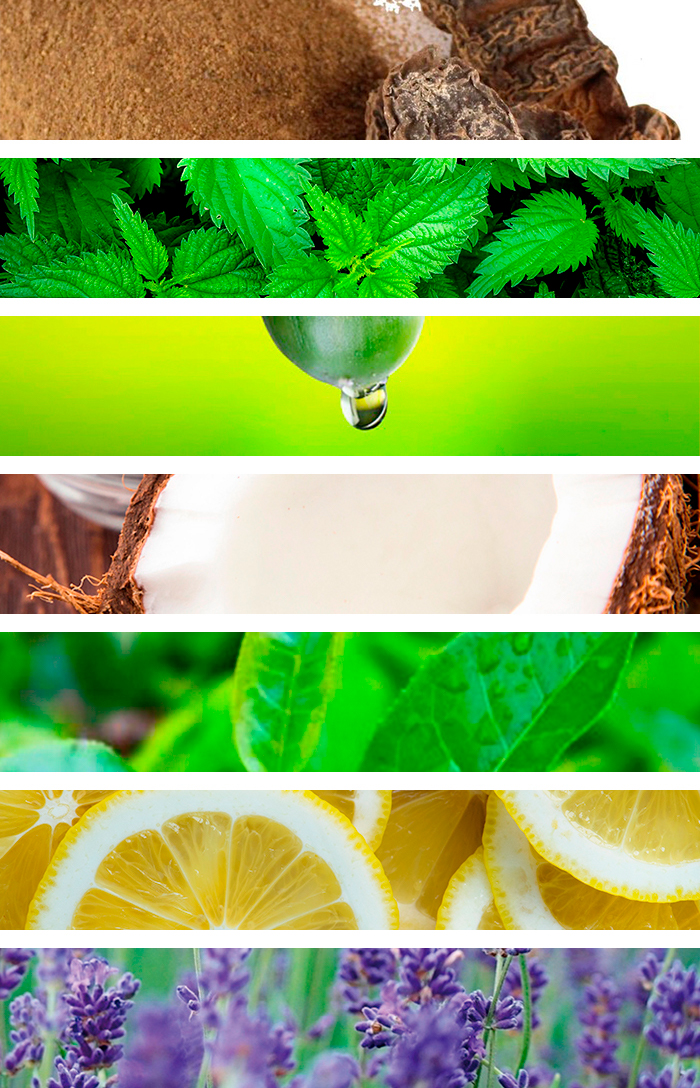 1. Apply a small amount to the palm of your hand and emulsify.
2. Apply to your scalp, massage with your fingertips and rinse thoroughly.
3. Wash for a second time to boost the results.
Its action is enhanced if left to act for a few minutes.
Aqua (Thermal Water), Lauryl Glucoside, Sodium Cocoamphoacetate, Glycerin, Sodium Cocoyl Glutamate, Sodium Lauryl Glucose Carboxylate, Decyl Glucoside, Hydrolyzed Keratin, Coco Glucoside, Glyceryl Oleate, Acacia Concinna Fruit Extract (Shikakai Extract), Cocos Nucifera Oil (Coconut Oil), Simmondsia Chinensis Seed Oil (Jojoba Oil), Betaine, Propanediol, Hydrolyzed Silk, Arthrospira Platensis Extract (Spirulina Extract), Lamium Album Extract, Artemisia Abrotanum Flower/Leaf/Stem Extract, Tropaeolum Majus Flower/Leaf/Stem Extract, Camellia Sinensis Leaf Extract, Aloe Barbadensis Leaf Juice, Panthenol (Provitamin B5),Mentha Piperita Oil,Romarinus Officinalis Flower Oil, Juniperus Virginiana Wood Oil, Citrus Limon Peel Oil, Lavandula Angustifolia Leaf Oil, Tocopherol, Xanthan Gum, Dehydroacetic Acid, Benzyl Alcohol, Potassium Sorbate, Ascorbyl Palmitate, Lactic Acid, Limonene, Linalool, Geraniol, Citral, Citronellol.*Natural surfactants of vegetable origin. Sulfate-Free.