Nourishing, repairing and soothing
Smoothing Yuzu Hydrating Body Scrub is a nourishing body scrub that turns dry, flaky or rough skin into smooth, soft and luminous skin.
An effective treatment that combines physical + enzymatic exfoliation, with non-comedogenic nourishing oils and plant actives to renew and improve the skin.
Formulated with Organic Sugar, Alpha Hydroxy Acids (AHA) (Glycolic, Lactic, Citric, Malic and Tartaric Acids) and Papaya enzymes, an effective combination that removes dead skin cells from the surface of the skin and renews them at two levels (superficial and deep) improving skin texture.
It is enriched with Succinic Acid,an ingredient with antimicrobial and keratolytic activity that helps remove dead skin cells, preventing pores from clogging.
It is enriched with organic Oat and Rice Flour, that soothe the skin and reduce redness while Shea Butter and Almond and Olive Oils repair and nourish the skin.
A skin-friendly, sensorial, citrus-scented and sweet scrub that combines the super fruit Yuzu with Tangerine, Orange, Grapefruit and Apricot and is totally addictive!
250 ml | All skin types | Suitable for pregnant women | Cruelty free | Vegan | Ecocert Cosmos Natural
.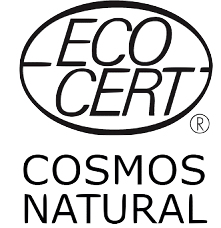 Natural ingredients and actives
AHA COMPLEX
A combination of 5 natural alpha hydroxy acids extracted from Cranberry, Sugar Cane, Orange, Lemon and Sugar Maple.
Lactic Acid is a great moisturiser.
Glycolic Acid promotes cell renewal and increases the synthesis of collagen, glycosaminoglycans (GAGs), as well as Hyaluronic Acid content.
Citric Acid contributes to healthy skin.
Malic and Tartaric Acids increase elasticity.
These AHAs penetrate into the deeper layers of the skin treating conditions such as dry skin and blemishes.
PAPAYA ENZYMES
Papaya contains Pepaine, a proteolytic enzyme that helps to remove dead skin cells and improve skin radiance.
SUCCINIC ACID
A multifunctional ingredient with antimicrobial and keratolytic activity. It removes dead cells, boosts cell renewal and helps the active ingredients penetrate the skin.
RICE FLOUR
It helps exfoliate dead skin cells, brightens and evens skin tone. It also soothes irritation, reduces redness and helps to tighten pores after exfoliation.
ORGANIC OATS
Its high content in avenanthramides, a type of antibiotic produced by plants, makes it a great soothing active ingredient with antioxidant properties. It is rich in saponins which are natural cleansers.
SHEA BUTTER, ALMOND AND OLIVE OILS
A soothing, healing, skin barrier repairing and highly nourishing combination. These three ingredients are in charge of balancing the exfoliation, providing emollience, softness, suppleness and a fresh feel to the skin.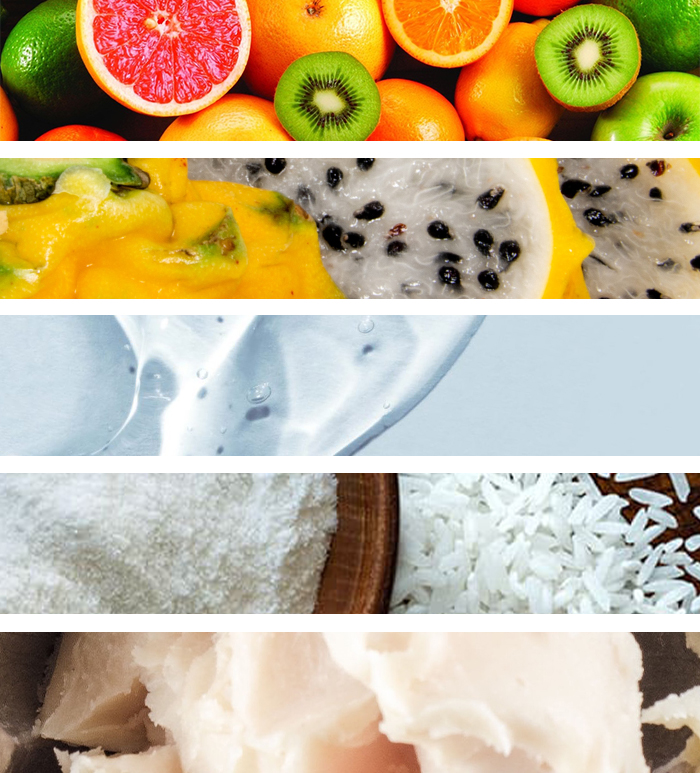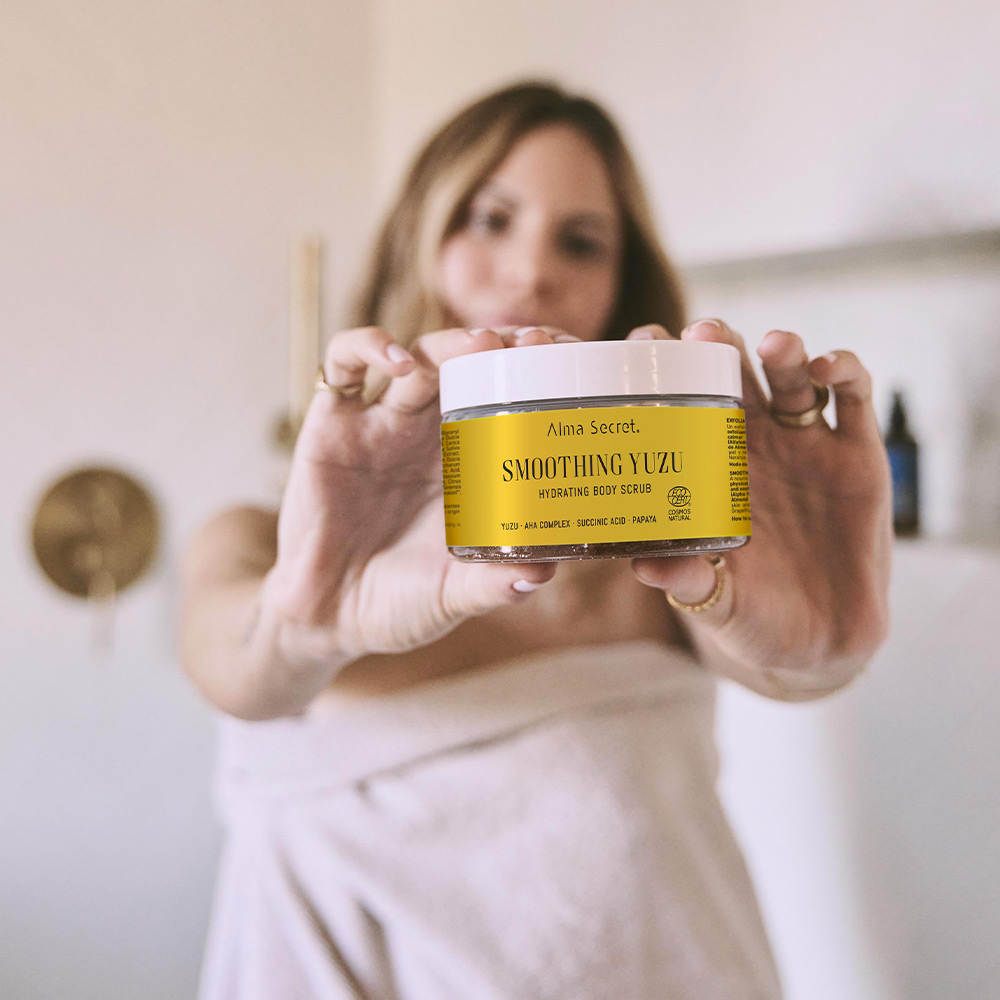 If you don't use a body scrub, you're missing out on a very pleasant experience for your skin, so.... don't miss the opportunity to enjoy it!
- Take the opportunity to apply it in the shower, massaging it in circular movements on wet skin. It is effective from the first use.
- It is also ideal before body shaving because it will help to soften the roots and lifts hair, reducing irritation.
These are our recommendations for use:
- Dry skin: exfoliate once a week and apply moisturiser afterwards.
- Sensitive skin: gently exfoliate once a week. It is suitable for all skin types, but for sensitive or atopic skin, it is preferable to do a patch test before use on the whole body.
- Oily skin: exfoliate 1-2 times a week, and moisturise very well afterwards.
Sucrose, Aqua (Thermal Water), Glyceryl Stearate SE, Cetearyl Alcohol, Prunus Amygdalus Dulcis Oil, Butyrospermum Parkii Butter*, Succinic Acid, Carica Papaya Fruit Extract, Officinarum Extract, Citrus Aurantium Dulcis Fruit Extract, Citrus Limon Fruit Extract, Hacer Saccarum Extract, Glycerin, Olea Europaea Fruit Oil, Stearic Acid, Tocopherol, Ascorbyl Palmitate, Xanthan Gum, Potassium Sorbate, Sodium Benzoate, Citrus Junos Peel Oil, Citrus Paradisi Peel Oil, Citrus Reticulata Peel Oil, Citrus Sinensis Peel Oil Expressed*, Parfum, Limonene*, Linalool*, Citral**, Geraniol**.
*Ingredients from organic farming.
**Natural origin fragance | 99% natural origin of total
COSMOS ORGANIC certified by Ecocert Greenlife according to COSMOS Standard