All skin types
If you are looking for an all-in-one product that melts into your skin to correct imperfections (redness, uneven tone,…), a product that moisturises, protects and perfects your skin but does not clog pores, allowing the skin to 'breathe' and comfortable to wear all day long, you need to try it!
URBAN BB Cream is a silky fluid foundation with light to medium, modular coverage that blends into the skin for a juicy, luminous, healthy-looking that lasts all day. A hybrid BB cream that gives your skin a flawless, healthy, hydrated look while protecting it from external damage.
Its innovative formula with SPF 20 broad spectrum protection (UVA, UVB, HEVis and IR), moisturises and protects skin against pollution, solar radiation and Blue Light

thanks to its combination of antioxidants, nutrients, physical and biological filters.
It is enriched with Blueberry, Hyaluronic Acid, 8 powerful Botanical Extracts, Ferulic Acid, Vitamins C and E, and two innovative complexes: 3-D HYDRA and

BLUE LIGHT SHIELD

that will reinforce the skin forming a protective barrier that preserves elastin and collagen keeping the skin smooth, hydrated and protected from oxidative stress.
Its natural colour-correcting mineral pigments provide luminosity and melt into the skin. The result is a radiant, even and beautiful skin tone.
Its natural aroma of red berries is subtle and delicious.
Dermatologically tested.
Available in two shades: Medium (light) and Warm (medium-dark or slightly tanned skin).
.
40 ml | All skin types | Suitable for pregnant women | Alcohol free | Vegan | Cruelty free | Ecocert Cosmos Natural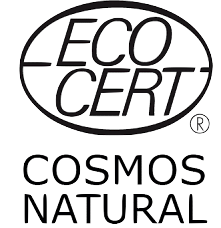 .
Natural ingredients and actives
Anti-pollution Complex
We combine FERULIC ACID with VITAMINS C and E and a BOTANICAL COMPLEX that has antioxidant, anti-pollution and detox properties.
They form a protective and repairing barrier against the damage caused by environmental pollution, and provide many other benefits to the skin.
Ferulic Acid, in addition to counteracting the effects of environmental damage, is also a great depigmenting agent.
BLUE LIGHT SHIELD + UV + IR PROTECTION (SPF 20)
An active ingredient made up of BLUEBERRY OIL, RASPBERRY and two MICROALGES (Dunaliella Salina and Haematococcus Pluvialis) rich in beta-carotene and natural Astaxanthin.
A combination that strengthens the skin's defense mechanisms, DNA repair and antimicrobial protection. Protects from BLUE LIGHT and the harmful effects of sun exposure (UVA, UVB and INFRARED rays), preventing sunburn and minimising redness for healthier, revitalised and protected skin.
*Clinically proven efficacy in in vitro and ex vivo tests.
HYDRA 3-D
An innovative combination of VEGAN HYALURONIC ACID + a MATRIX 3-D TECHNOLOGY complex that combines a marine active ingredient (Enteromorpha Compressa) with a plant-based polysaccharide.
It works by sequential release and increases the amount of glycosaminoglycans to make the skin feel more comfortable, elastic and moisturised throughout the day, preventing patchiness and dryness.
The skin becomes firmer and more elastic, more hydrated, the number of elastic fibres is increased and the dermo-epidermal junction and skin thickness are improved. It also has anti-inflammatory and rejuvenating effects.
BOTANICAL COMPLEX
A potent cocktail of plants with illuminating, energising, soothing and restorative properties.
o White Tea: It is the least processed variety of tea, which means that it has a higher amount of catechins and polyphenols with high antioxidant power (Epigallocatechin EGCG). It has extraordinary anti-ageing and energising properties and also protects the skin's immune system.
o Green Tea: It is a great anti-inflammatory and a powerful antioxidant that will rejuvenate skin cells and protect it from free radicals, thus delaying ageing. It also helps to tighten skin pores and eliminate imperfections.
o Liquorice: It helps the production of melanin so it acts as a preventative to avoid pigmentation spots and hyperpigmentation of scars.
o Ginseng: A powerful antioxidant that helps protect the skin from pollution, stress and UV rays. Rejuvenates and tones, acting against sagging and stimulating cell repair. It is also a great anti-inflammatory and energiser.
o Calendula: It has anti-inflammatory, healing and antiseptic properties.
o Cica (Centella Asiatica): Rejuvenating and firming, repairing, antibacterial and healing. Stimulates cell renewal.
o Pomegranate: Reafirma los tejidos. El resultado es una piel más firme y rejuvenecida.
o Raspberry: It protects against solar radiation, is anti-inflammatory and suitable for all skin types. Its composition rich in polyunsaturated fatty acids and vitamins maintains skin firmness, combats the signs of ageing and helps to reduce blemishes.
SQUALANE
It works by rehydrating and improving the skin barrier, retaining moisture and minimising dryness.
NATURAL MINERAL MICROPIGMENTS
They work on the skin to provide natural luminosity and silkiness. They even the tone, conceal imperfections and pores, reducing the appearance of lines and wrinkles.
THERMAL WATER
It calms, remineralises and provides the skin with a large amount of nutrients.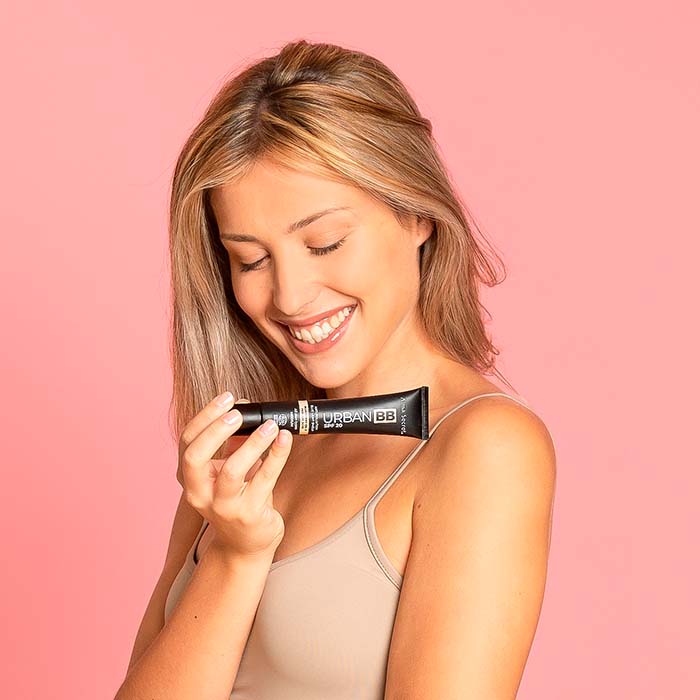 Apply on clean, toned skin from the centre of the face outwards. You can do this with your fingers, sponge or brush. Remember, if you use your fingers, you will save product.
If you have normal, combination or oily skin, you can use it directly after cleansing or combine it with the Serum as a pre-base. And if your skin is dry or dehydrated and you need extra hydration, we recommend extending your facial routine to Serum + Moisturiser.
You can apply a single layer for a very natural finish or "No make up" or several layers if you prefer greater coverage or need to cover or conceal a more specific area (spots, blemishes, etc). In both cases, you will get a beautiful and homogeneous skin that will be protected and able to "breathe" at the same time.
If you have combination or oily skin, you can finish by applying translucent powder only on the T-zone if you have combination skin and all over your face if you have oily skin. This will control shine and leave your skin glowing and healthy.
If you are prone to pimples or acne, we recommend that you always apply it with your fingers and avoid any make-up accessories (brush, sponge, etc.) that may be prone to bacterial growth.
You can use it to lightly cover the under-eye area or carry it in your handbag for touch-ups. You can also reapply during the day by using it onto the desired areas.
Your skin will be hydrated, even, firm, smooth, luminous and protected from the sun, blue light and pollution.
Aqua (Thermal water), Helianthus Annuus Seed Oil*, Titanium Dioxide, Coco-caprylate/caprate, Caprylic/capric Triglyceride, Dicaprylyl Carbonate, Propanediol, Squalane, Glycerin, Cetearyl Alcohol, Glyceryl Stearate, Vaccinium Myrtillus Seed Oil, Pongamia Glabra Seed Oil, Rubus Idaeus Seed Oil*, Sodium Hyaluronate, Ferulic Acid, Dunaliella Salina Extract, Haematococcus Pluvialis Extract, Calendula Officinalis Flower Extract, Camellia Sinensis Leaf Extract (Green & White Tea), Panax Ginseng Root Extract, Centella Asiatica Extract, Punica Granatum Fruit Extract, Glycyrrhiza Glabra Root Extract*, Enteromorpha Compressa Extract, Cetearyl Glucoside, Candelilla Cera, Tocopherol (Vitamin E), Ascorbyl Palmitate, Xanthan Gum, Caesalpinia Spinosa Gum, Silica, CI77492, CI77491, CI77499, Polyhydroxystearic Acid, Potassium Sorbate, Sodium Benzoate, Dehydroacetic Acid, Benzyl Alcohol, Parfum.
*Ingredients from organic farming | 98,58% natural origin of total.
COSMOS NATURAL certified by Ecocert Greenlife according to COSMOS Standard