Oily skin
Excellent for oily skin. Its main ingredient is Dead Sea Mud, with great therapeutic benefits. It is anti-seborrheic, absorbs oil and cleanses the skin in depth. It is also rejuvenating, anti-wrinkle and ideal for improving skin with acne or psoriasis.
It contains Jojoba, Argan and Castor, three ideal oils that do not clog pores, they are antibacterial, oil-balancing and acne-fighting.
The formula is enriched with essential oils of Clove (antiseptic and stimulating), Tea tree (antibacterial and soothing) and Ylang (anti-blemish and balancing).
Daily face and body use.
120 g | Suitable for pregnant women | Cruelty free | Hand-wrapped with 100% recyclable paper
.
Natural Ingredients and Actives
Dead Sea mud is anti-seborrhoeic, absorbs oil and deeply cleanses the skin. But its benefits do not stop there, it is also rejuvenating and anti-wrinkle and ideal for improving skin with acne or psoriasis.
A fast-absorbing and amazing oil for all skin types. It is a great moisturiser, cell regenerator and anti-ageing. It reduces wrinkles while improving the elasticity and firmness of the skin.
It is anti-inflammatory and antibacterial. Ideal for the treatment of dark circles under the eyes. Cleopatra already used it to care for her contour, strengthen and lengthen her eyelashes.
SHEA BUTTER
It is soothing, healing, repairing, protective and very nourishing. Ideal for treating the driest and most dehydrated skins providing firmness and smoothness.
Cocoa butter provides elasticity, hydration and nourishment to the skin. It repairs dry or chapped skin, making it soft and supple. It is a source of antioxidants, vitamins and minerals.
CLOVE, TEA TREE, TANGERINE AND YLANG ESSENTIAL OILS
A synergy of balancing, antiseptic, stimulating, antibacterial and soothing essential oils.
Essential skin antioxidant that will help reduce scarring and keep skin looking young and radiant.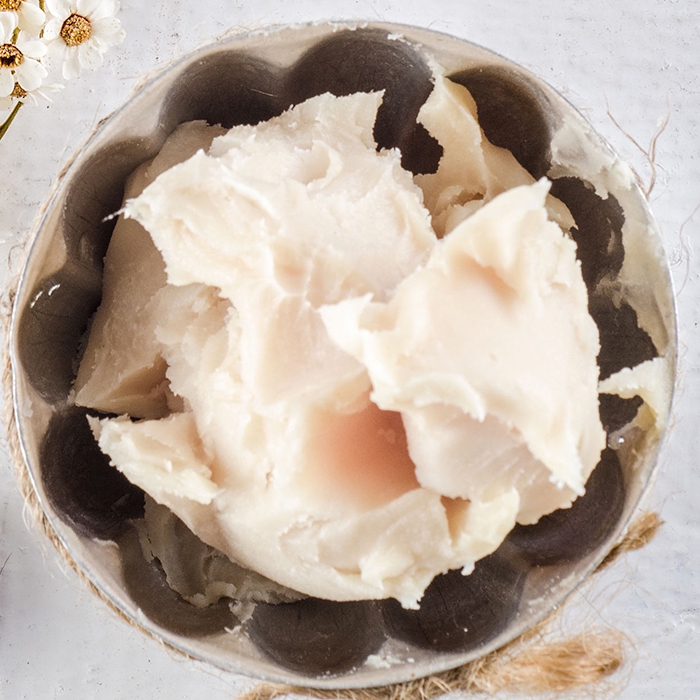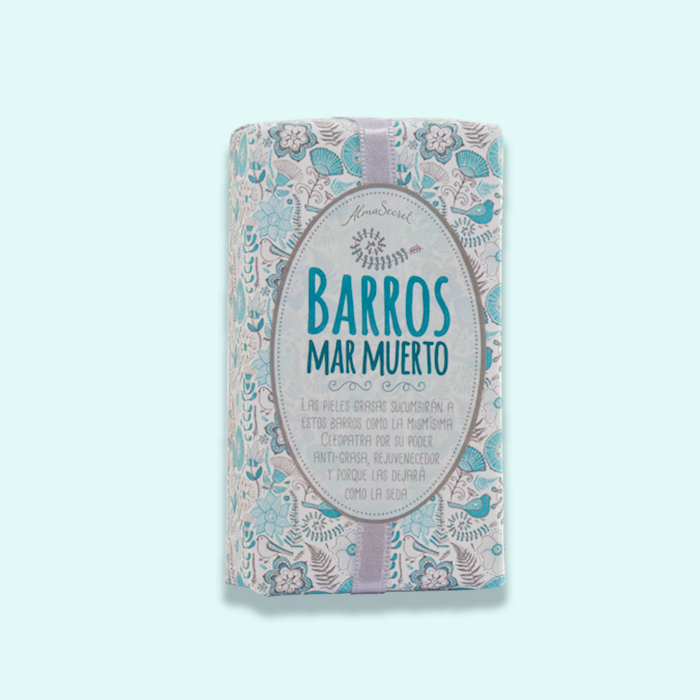 How To Use Dead Sea Mud Soap
1. Use it on the skin while showering or bathing to allow the natural ingredients to act directly on the skin, thus boosting its effectiveness.
2.You can also apply it with a soft sponge.
Olea Europaea Fruit Oil, Aqua, Cocos Nucifera Oil (Coconut Oil), Sodium Hydroxide, Elaeis Guinensis Oil, Theobroma Cacao Seed Butter, Helianthus Annuus Seed Oil, Black Mud (Mineral Mud Powder from the Dead Sea), Butyrospermum Parkii Butter (Shea Butter), Beeswax, Simmondsia Chinensis Seed Oil (Jojoba Oil), Ricinus Communis Seed Oil, Melaleuca Alternifolia Leaf Oil, Argania Spinosa Oil (Argan Oil), Eugenia Caryophyllus Flower Oil, Citrus Reticulata Peel Oil, Cananga Odorata Flower Oil, Tocopherol.